Why Is Wiz Khalifa and Charlie Puth's "See You Again" No. 1?
"Every movie in every cinema is about death," a wise man once said. "Death sells."
Of course, Spinal Tap manager Ian Faith was saying this about an album with a none-more-black cover, featuring songs with titles like "Hell Hole." But as history has shown time and again, if you combine death with a hopeful melody, music fans will flock to it in large numbers. Bring that elegiac tune to movie screens, and it's a commercial juggernaut. (That Ian—he may not have fussed over the difference between inches and feet, but when it came to selling records, the man was a seer.)
Death and cinema are the key reasons "See You Again" by Wiz Khalifa featuring Charlie Puth is the No. 1 song on Billboard's flagship Hot 100 chart. In addition to spending a second week on top here in America (a streak it's likely to extend), "See" is No. 1 in more than a dozen countries worldwide, mirroring the global blockbuster movie that birthed the song, Furious 7. Billion-dollar-generating movies don't always spawn world-conquering No. 1 hits. (Does anybody remember "I See You (Theme from Avatar)" by Leona Lewis?) But Khalifa's and Puth's maudlin piano-and-rap ballad is not just riding the Furious box-office wave. It's serving as a take-home souvenir of the movie's poignant farewell to late actor Paul Walker.
Walker, a co-lead in six of the seven Fast and Furious movies, is given a long sendoff at the close of Furious 7. The Lifetime-channel-worthy sequence between Walker and costar Vin Diesel is captured, virtually in toto, in the "See You Again" music video. One doesn't typically go to a muscle-car movie for a good cry, but a big reason Furious 7 is not just a blockbuster but the biggest movie in the franchise to date is that ending: Diesel has compared the emotional finale, not without reason, to Titanic, and "See You Again" is its "My Heart Will Go On"—a song directly connected to the film's heartrending denouement that the public, in turn, decides it must own.
That's certainly how the song became such a smash here in America—Billboard reports that consumers got out ahead of radio programmers. The song started at the Hot 100's lowest rung in late March, but immediately after Furious 7 hit U.S. screens in early April, "See" made a huge leap into the Top 10, fueled by digital downloads. After the movie had been in theaters more than a week, those sales virtually tripled—"See" shifted nearly a half-million downloads in a week, the highest total for a song since Taylor Swift's "Blank Space" late last year—and the April 6 premiere of the "See" music video generated an eye-popping 25 million weekly YouTube views. Those two data points alone made the song's rise to the penthouse a foregone conclusion, even as the song was only starting to generate airplay.
"See You Again" is now dominating multiple Billboard charts. None of the prior Fast and Furious movies generated a hit soundtrack album, but last week the Furious 7 soundtrack topped the Billboard 200 album chart, largely because of "See." Over on the Hot 100, "See" didn't just motor into the top slot—it car-jumped from No. 10 to the top. With that out-of-nowhere move, Wiz and Puth became giant-killers: "See" ejected "Uptown Funk!" by Mark Ronson and Bruno Mars after an epic chart-topping run, one that other hits this winter proved unable to overcome—singles by Hozier, Ed Sheeran, and Maroon 5 all stalled at No. 2.
(Seriously, for those wondering why this is my first "Why Is This Song No. 1?" post since early January, it's because "Uptown Funk!" wound up sitting in Billboard's top slot for more than three months. Before "See You Again" came barreling in, there was speculation that "Funk!" might outlast "One Sweet Day," Mariah Carey and Boyz II Men's melisma-rific 1995–96 single that holds the all-time record with 16 weeks at No. 1. Instead, with 14 weeks on top, "Funk!" settles into a seven-way tie for second place in the annals of Hot 100 history. I like "Uptown Funk!" but man—that's the last time I wish aloud for a song to "blanket every corner of the radio." Fourteen weeks was a little much, America.)
Given all of the above data points—the movie connection, the box office, the outpouring of emotion over the untimely death of Walker—you might think it doesn't matter what "See You Again" sounds like. But that sells the song short. What makes "See" a schlock tour de force—not a great or even a very good song, but a showcase of craft—is the savvy way it takes the feeling surrounding a specific pop-culture event and expands it into all-purpose message about loss. With its lyrics about "family," its unsubtle allusions to an afterlife ("let the light guide your way … I'll tell you all about it when I see you again"), and the mournful melody from featured performer Puth—an ivory-tinkling, falsetto-singing hybrid of Ben Folds and Adam Levine—"See You Again" fulfills the basic human impulse to turn tragedy and loss into kitsch. It's the commemorative 9/11 golf ball or black-velvet Elvis painting of 2015 hits.
Hip-hop, in particular, has a decades-long history of mourning the dead, often movingly. As a pour-one-out anthem led by a rapper, "See You Again" has at least two obvious antecedents among prior U.S. chart-toppers, both of them mid-'90s singles: "Tha Crossroads" by Cleveland rap troupe Bone Thugs-n-Harmony, and "I'll Be Missing You" by Sean Combs aka Puff Daddy (as he was known then) with Faith Evans and 112. The former, an eight-week No. 1 in the spring of 1996, commemorated several of the Bones' fallen street comrades but also NWA rapper Eazy-E, who signed the group to his Ruthless label before dying of AIDS in 1995. The latter, which spent 11 weeks—nearly all of summer 1997—atop the Hot 100, found Puffy riding a sample of the Police's "Every Breath You Take" to commemorate his mentorship and friendship with the just-deceased Christopher Wallace, aka The Notorious B.I.G.
It's tempting to connect "See You Again" to these dead-homies chestnuts. What they all have in common is a sweet, almost churchy approach to melody: the Bone Thugs rhyming in "Crossroads" about how they "pray, every day, every day"; widow Faith Evans singing mournfully on "Missing," with a gospel ache, for her former husband; the hymn-like piano lines that anchor "See." But besides the fact that Paul Walker, as a song honoree, makes a strange analog to Eazy-E or Biggie (I'm having a hard time picturing anyone pouring out a 40-oz. for a genre-movie actor), the current hit is also much less hip-hop-centric than its predecessors. "Crossroads" and "Missing" were both unabashedly corny and pop-friendly, but at their core they were about hip-hop's backstory—its culture, its beefs, its self-destructive impulses. "See You Again" is about death in the abstract, and specifically, it's about the death of a celebrity. Among mid-to-late '90s hits (a big period for death on the Hot 100), "See" is much closer to Elton John's "Candle in the Wind 1997"—Diana, Princess of Wales, remains the ultimate celebrity angel—or the aforementioned 1998 smash "My Heart Will Go On" by Celine Dion, the quintessential mourn-you-till-I-join-you pop song.
Another reason "See You Again" feels less tied to the lineage of hip-hop elegies is the cipher-like presence of its nominal lead performer, Wiz Khalifa. Give the man credit: It's hard in the 2010s for a rapper, any rapper, to top the pop-and-dance-centric Hot 100, and in the last five years Khalifa has done it twice. Wiz first rang the bell with "Black and Yellow," a celebration of his Pittsburgh hometown that spent a single week at No. 1 in February 2011 thanks to the Steelers reaching Super Bowl XLV. Since then, Khalifa has built a reputation as the go-to stoner rapper and a solid career in hip-hop's second tier; he's scored a couple more Top 10 hits and, last year, his first No. 1 album, Blacc Hollywood.
Now, with "See You Again," Wiz is the first rapper to front a Hot 100 chart-topper since Eminem did it with "The Monster" in late 2013; and the first rapper of color to do so since Flo Rida scored a No. 1 with "Whistle" in summer 2012. The latter MC makes for a particularly apt comparison—in much of his oeuvre but especially on "See," Khalifa more closely resembles radio-rappers like Flo Rida (whom Jody Rosen memorably called "a huge hitmaker with no discernable charisma") or the pop-centric B.o.B. than, say, Kendrick Lamar or J. Cole. Khalifa's biggest hits tend to do better on the Hot 100 than on Billboard's R&B/Hip-Hop Airplay chart. And both of his two pop chart-toppers have been propelled by massive cultural X-factors—the Super Bowl with "Black and Yellow," a smash movie with "See." He may not want to be called a "stoner rapper" anymore, but Khalifa may have to settle for the title of "event rapper."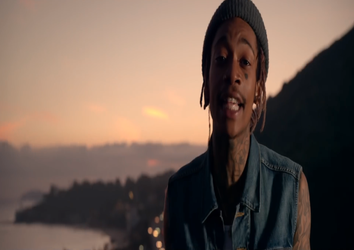 Khalifa does get a few of the song's most memorable lines, including the refrain, "How could we not talk about family when family's all that we got?" and the movie-recalling "… now you gonna be with me for the last ride." But Charlie Puth's piano-and-vocal segments are given a more central showcase in the mix—his high-pitched "Oo-oo-OOH-oo-OOH" is arguably the song's most memorable hook—and serve as the core of the its chart-conquering prowess. Indeed, there's already a rap-free mix of "See You Again" that focuses on Puth's segments and excises Khalifa, not unlike the popular radio edit of 2013's "Holy Grail" that centered on guest singer Justin Timberlake instead of Jay Z. Given recent radio tendencies, don't be surprised if the all-Puth version of "See" is the one you hear months from now on adult-contemporary stations—more than six years after Jay Z's "Empire State of Mind" was a hit, I'm still hearing the Alicia Keys–only mix in the bread aisle.
This brings up the question of how long a shadow "See You Again" will have after 2015, when the public's warm fuzzies over Paul Walker fade and the first Walker-less movie—Fast 8, or Ocho Furious, or whatever it's called—is in theaters. The song may well spend months atop the Hot 100 this year, but that doesn't guarantee we'll be hearing this on the radio in 2019.
In and of themselves, death-related blockbuster songs have modest lifespans. "Tha Crossroads" receives scant recurrent radio play, and "I'll Be Missing You," despite spending more weeks at No. 1 than "Every Breath You Take," certainly hasn't had the latter's gargantuan footprint. Even Elton's Diana tribute—reportedly one of the two biggest-selling singles of all time, after "White Christmas"—receives few spins today. On the other hand, we are still living in a "My Heart Will Go On" world; within three notes of that opening tin whistle, if you're not running screaming from the room, you are probably swooning with memories of Jack and Rose.
So what is "See You Again," legacy-wise—a death song or a movie song? Five years from now, if the sound of Charlie Puth's falsetto makes you picture two cars diverging, Robert Frost–style, we'll have to refine Ian Faith's theory: Death sells … but movie death is immortal.
Read more from Why Is This Song No. 1?:
Content retrieved from: https://slate.com/culture/2015/04/wiz-khalifa-and-charlie-puths-see-you-again-is-no-1-on-the-billboard-hot-100-chart-why-the-history-of-hip-hop-elegies.html.