Rihanna's "Work" Is Her 14th No. 1. Could She Beat the Beatles' Most Unbeatable Record? 
Gibberish: For many, that's what Rihanna's "Work" sounds like the first half-dozen times. "Work work work work work work"—it starts off intelligibly enough, like she's channeling a rough day for the Seven Dwarves. But before the song is even 25 seconds in, it's hard to tell what she's saying. Is that "La la la la la la"? "Ta ta ta ta ta ta"? Is this a song about work or an ode to the three-martini lunch?
Maybe the reason the song sounds so foreign to most U.S. ears is it quite literally is. The savvy "Work" draws heavily upon Rihanna's Caribbean roots: She sings much of the song in a cross between Jamaican patois and her own Barbadian Creole. (That fifth refrain is, "When you ah guh [all going to]/ Learn, learn, learn, learn, learn," and the sixth is, "Meh nuh cyar if him [I don't care if he's]/ Hurt, hurt, hurt, hurt, hurting.") The woman born Robyn Rihanna Fenty in Barbados has showcased her heritage at several points during her hitmaking career: explicitly on the 2010 smash "Rude Boy" and the minor 2011 hit "Man Down," and as a kind of spice in "Pon de Replay," her breakthrough smash from the summer of 2005. But those were more straightforward pop-crossover records, with Rihanna enunciating for Top 40 radio. "Work" has dancehall deep in its bones. Built atop a 1998 Jamaican riddim used by, among others, a pre-American-crossover Sean Paul, the sexed-up, blissed-out, minimalist "Work" is arguably Rihanna's most devoted homage ever to the sound of her island home—at least on a single she wants you to hear on the radio.
"Work" is the lead single from Rihanna's new album Anti. Considering how delayed and haphazard the album's release was, the single's easy climb to No. 1 is remarkable. In the last two months, three of our biggest stars—Rihanna, Beyoncé, and Kanye West—have all dropped new material with little warning and seismic impact. But two of the three, Beyoncé and Kanye, have evinced little interest in courting mainstream consumption. Bey's "Formation" single, despite massive exposure at this year's Super Bowl, was intended to be consumed as a video and a protest-style conversation-starter, not a radio cut; it has barely dented Billboard's charts. As for West, he proved on "FourFiveSeconds" with Rihanna and Paul McCartney (No. 4 last winter) that he can still create hits when the spirit moves him, but the Tidal-only Life of Pablo is a supposedly "unfinished" album and, like his last two sprawling, racy albums, was clearly not conceived for hit-song generation. No, of the three artists, only Rihanna sought out a huge pop hit. This despite the fact that she is, in a way, even more commercially unfettered than Bey or Ye. Anti, Rihanna's first album in three years, is her first under a new deal with Jay Z's Roc Nation that gives her her own label. New York Times critic Jenna Wortham has called Anti Rihanna's "freedom" album—"the record you make when you don't need to sell records."
And yet, Rihanna spent all of 2015 in a frustrated quest to find a leadoff single for Anti. Last summer's meme-tastic "Bitch Better Have My Money" was an R&B radio smash but a pop-chart dud, and two other singles were pop nonentities. As indicated by a recent Rolling Stone interview with busy song scribe Sia, who wrote Rihanna's 2012 hit "Diamonds," Rihanna and her team held up the album until they found a big single. (For "Work" they wound up turning to writer-producer and frequent Drake collaborator Boy-1da; I guess he's who Rihanna texts in a crisis.) So free or not, Rihanna still cares a lot about her status as an American chart goddess.
Maybe that's because she has a big chart streak to protect: "Work" is her 14th No. 1 hit. Let's pause on that number. That stunning total is the fourth-highest in the history of the Billboard charts—remarkable, since Rihanna didn't score her first chart-topper until 2006. And while more than half of that roster consists of collaborations—sometimes as a song's supporting hook-singer, more often as the lead—it could be argued she has been the dominant personality, the X-factor, on all 14 of her No. 1s. Here's the complete list:
1. "S.O.S." (2006, three weeks)
2. "Umbrella" (feat. Jay-Z) (2007, seven weeks)
3. "Take a Bow" (2008, one week)
4. "Disturbia" (2008, two weeks)
5. "Live Your Life" (T.I. feat. Rihanna) (2008, six weeks)
6. "Rude Boy" (2010, five weeks)
7. "Love the Way You Lie" (Eminem feat. Rihanna) (2010, seven weeks)
8. "What's My Name?" (feat. Drake) (2010, one week)
9. "Only Girl (In the World)" (2010, one week)
10. "S&M" (feat. Britney Spears) (2011, one week)
11. "We Found Love" (feat. Calvin Harris) (2011–12, 10 weeks)
12. "Diamonds" (2012, three weeks)
13. "Monster" (Eminem feat. Rihanna) (2013–14, four weeks)
14. "Work" (feat. Drake) (2016, two weeks to date)
Rihanna's No. 1 hit total is more than twice as many as Beyoncé's, and it's more than she and Destiny's Child and Kanye have generated combined. In fact, with that 14th No. 1, Rihanna just passed Michael Jackson. If Rihanna scores just three more chart-toppers, she will tie Elvis Presley (10 of the King's 17 No. 1 hits predate the Hot 100's 1958 launch, but chart scholars still count them all). With four more, Rihanna will equal Mariah Carey's total of 18 and have the highest total for a solo act. And a mere half-dozen more will pull her even with the all-time Hot 100 champs, the Beatles.
How likely is any of this? Will Rihanna really challenge the King or the Fab Four? That all depends on where Rihanna is in her career, and it gets to the core of what Anti really represents. As a chart analyst, here's the question I'd ask: Is "Work" a core Rihanna hit, or is it a vestigial hit—an afterburn of her former glory? With that 14th No. 1 in the bag, is Rihanna now on the brink of her next great hitmaking wave, or is she riding off into the sunset?
Here's a visual to help explain what I mean by a "vestigial hit." The interactive below shows the chart-topping careers of the 10 acts with the most Billboard No. 1s, from their first No. 1 to their last. On each artist's timeline, you can hover over the hashmarks to see the title of each hit and when it topped the chart.
Length of Time Between Billboard No. 1 Hits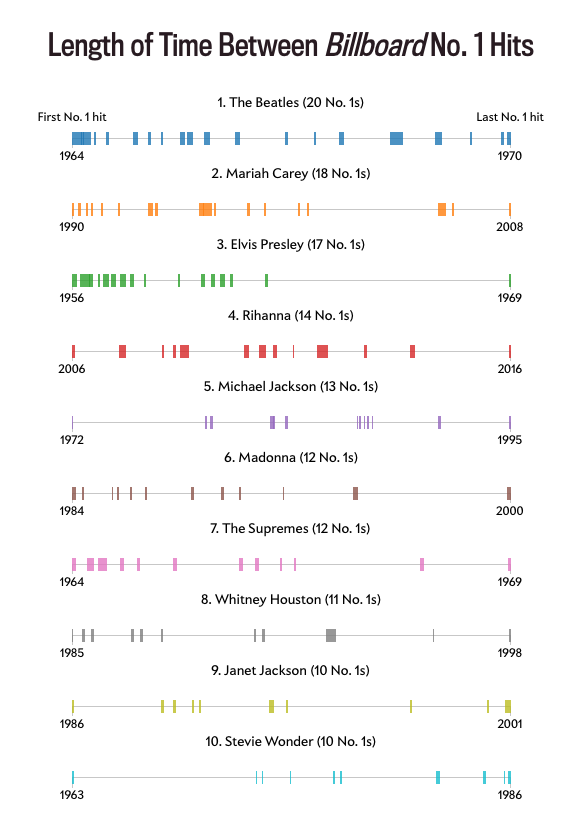 View on a larger screen for the full interactive graphic.
Interactive by Andrew Kahn
The Beatles are our de facto control group—their career was exceptional, and not just because they had the most No. 1 hits. That's because the Fabs' chart-toppers were remarkably evenly spaced during their six years of chart dominance. From their 1964 launch with "I Want to Hold Your Hand" to their 1970 signoff "The Long and Winding Road," the Beatles' No. 1 hit gap averaged roughly three months; they had only two hit gaps that lasted as long as nine months (the 1966–67 gap between "Paperback Writer" and "Penny Lane," and the 1968 gap between "Hello Goodbye" and "Hey Jude"). What's most interesting, for our purposes, is that toward the end, as the Beatles were breaking up, there were no one-off, vestigial No. 1s. The band scored their final four No. 1s, from "Get Back" to the post-breakup hit "Road," in a single year, finishing strong in a sustained burst.
Most megastars don't finish as strong as the Fabs. Their careers sputter out with a vestigial hit or two—a fluky, afterburn No. 1 that comes years after the artist has peaked. For the ultimate example, take a look at Elvis Presley's timeline. From 1956's "Heartbreak Hotel" through 1962's "Good Luck Charm," Elvis scored 16 No. 1s in a tight six-year period; then, a gap of more than seven years before Presley landed his 17th, with the classic 1969 fluke "Suspicious Minds." Madonna's chart career is a similar story, with a more gradual decay: six speedy years to generate nine No. 1s, then a mid-'90s slowdown (only two No. 1s in four years), and finally a five-year gap before her vestigial 12th No. 1, 2000's "Music." Mariah Carey's career is a slightly different pattern but the same result: a huge '90s (15 No. 1s from 1990 to 2000), a half-decade wilderness period after her flop movie Glitter, and finally a vestigial boomlet driven by the 2005 comeback "We Belong Together," which generated a short run of afterburn No. 1s ("Don't Forget About Us," "Touch My Body") before she ran aground again.
Of course, the thing about vestigial hits is they are hard to identify in the moment and only clear in retrospect. But when the hits start coming fewer and farther between, you can sense the end is near. So where does Rihanna fit into this pattern? Take a look at her timeline, and "Work" has "vestigial" written all over it. It's been three years and three months between Rihanna's lead-artist No. 1s. That's dangerously close to Madonna-in-2000 or Mariah-in-2005 territory.
On the other hand, Rihanna just turned 28 last week. That would be awfully young to surrender her Hot 100–dominator status. It's considerably younger than Whitney Houston (32), Mariah Carey (38), or Madonna (42) were when they scored their final No. 1s. In fact, it's younger than all of the soloists on the above list were when their chart-topping days were over. (Only the Supremes and some of the Beatles were younger than 28 when their respective groups stopped topping the Hot 100, and that's only because those groups broke apart, with members going on to score No. 1s as solo artists.) More important, Rihanna is still younger than several of her 2010s pop peers, including Katy Perry, Drake, and Bruno Mars; she's only three months older than Adele and two years older than Taylor Swift, who don't appear to be anywhere close to packing it in.
None of these data points guarantees Rihanna more No. 1 hits. Too many random factors can affect the longevity of even an enormous pop star (e.g., Janet Jackson, who was on a strong roll in the early 2000s but stopped scoring big hits after Nipplegate). Rihanna's not even certain to score another No. 1 this year, although there are several prime single candidates on Anti—for all the chatter about the album's strangeness and daring, the Rihanna machine is still churning out big-sounding pop records like "Kiss It Better" and "Love on the Brain." I wouldn't bet on it, but Rihanna could be sneaking up on Elvis Presley's career total by next year.
The truth is, it's not entirely out of her hands. If you can make one prediction, it's that more three-year gaps between albums, as Rihanna enters her thirties, will take her out of the cultural conversation and put the chart records of Mariah Carey and the Beatles out of reach. Robyn Fenty may have officially entered the no-more-fucks-to-give phase of her life, and maybe Billboard chart records mean less to her than I suspect they do. But if Rihanna is serious about the upper reaches of the all-time pop record books, that's going to require a whole lot more of one thing: work, work, work, work, work, work.
Content retrieved from: http://www.slate.com/blogs/browbeat/2016/03/03/could_rihanna_beat_the_beatles_record_of_the_most_no_1s.html.